Game developers like you and me, we love Kickstarter. We're familiar with the rewards-based crowdfunding campaigns, but did you know there are actually 4 different types of crowdfunding? Did you know there's hundreds of platforms that all differ in just a few ways? More importantly, did you know money is only a part of its benefits?
A series of 3 posts
In this series of three, we're going to look back on our campaign for QuizWitz and try to give you as many new insights as we can. Boy, it has been a learning experience! First, I'd like to stress that despite its benefits, it does not mean easy money. On the contrary: you have to take a lot of time to prepare your campaign and you'll also have to make sure you stay on top of EVERYTHING. From PR to social media to updates, blog posts, development updates, offline communications, continue development, …
Each of the posts will concentrate on a different topic. The first one will explain everything theory. Next time, we'll look into our campaign in depth and talk about our own preparations. The last one will be an overview of our communications during the campaign.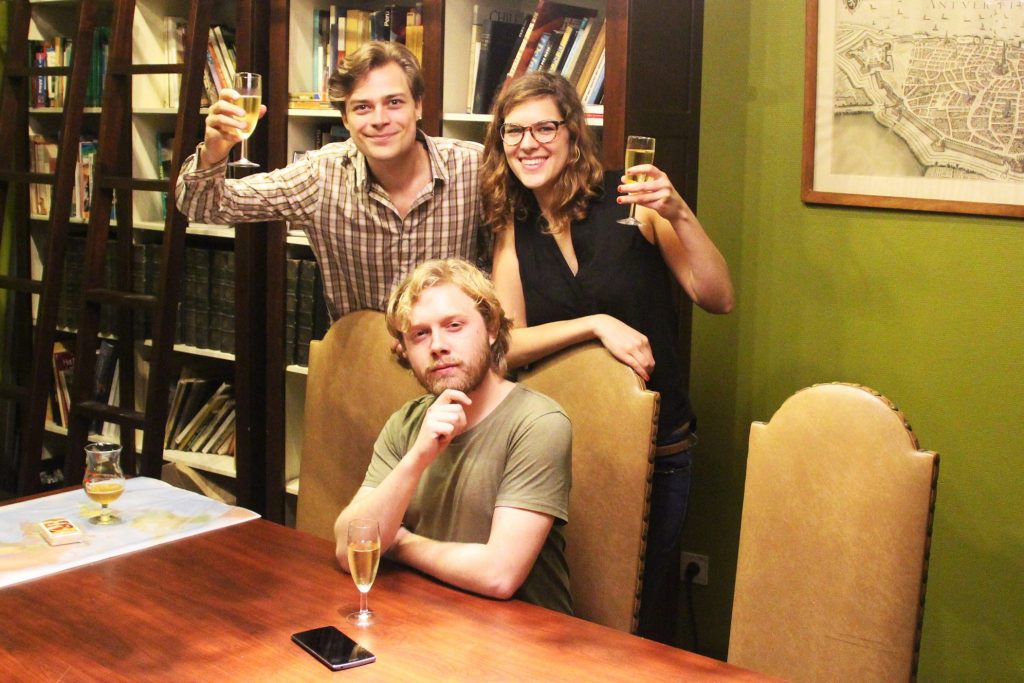 Why crowdfunding?
First of all, let's look into the benefits of crowdfunding. The obvious one is that you can start a campaign to raise funding, but that's not all there is to it. Here's an overview of some other, at least equally important benefits.
Crowdfunding helped us to engage a new or existing audience to become ambassadors of our project. Yes, there's always like-minded people out there that think like you. Once people are ambassadors, they'll feel a connection to your project and start speaking out about its awesomeness. In short, it helps you to build up a community, and we tried to bring people together as much as possible.
Next to that, the risks are fairly limited. Most platforms only require you to pay a fee if you manage to get funded. That allows you to test the waters, but it also means you'll get no dime if you don't make it. This forces you to think very carefully about your goals and the course of the campaign. It also makes sure you'll be able to pay for the promised rewards. In a way, this lowers two risks.
A crowdfunding campaign is also designed to show people what you're doing and what you want to achieve. To do this, you'll have to get your story straight and think about who you're talking to. In the end, it will be a proof of concept that shows future customers and funders that there's an interest for your project. Even if you don't reach your goal, you'll build up a collective of enthusiasts.
You will get feedback, and lots of it. You want people to feel connected to the project and if they care about what you're doing, they're going to try to help. Which is an awesome thing! We tried to facilitate this as much as we could, since we loved to hear what people were thinking. Maybe we just loved the compliments about the our quiz concept.
Two more terms: learning experience and market validation. Obviously, you'll be working your furry socks off to prepare the campaign and as you go. You'll learn new things about your project thanks to before mentioned feedback, you'll meet lots of new people and you will be able to collect information about your audience. What's the background of the people I'm engaging, who is sharing my message? Which groups and interests do they share? All of this information will be interesting in the long run as well!
The 4 types of crowdfunding
As we said in our intro, there are actually 4 types of crowdfunding. So let's see what they are.
First there's donation, in which funders don't get anything in return. Naturally, this type is mostly popular for social causes or in charity oriented campaigns.
The rewards-based system can serve as a pre-sale. Funders get strategic rewards that bring a feeling of being part of your project. This type is one of the best solutions for developers, since it also builds community and can engage players.
The two last types are financial ones and are less suitable to build community. But if you're in need of large sums of money, you can start a lending or equity campaign. A lending campaign allows you to raise funds in the form of loans, while an equity campaign is an actual exchange of shares. You'd be able to set investor caps and minimum pledges as well.
Which type works best for you is entirely up to what you're aiming to achieve. For most game developers, the added value you get from reward-based campaigns will probably be of great importance. We chose to go for a reards-based campaign, as we are a young studio with a limited community.​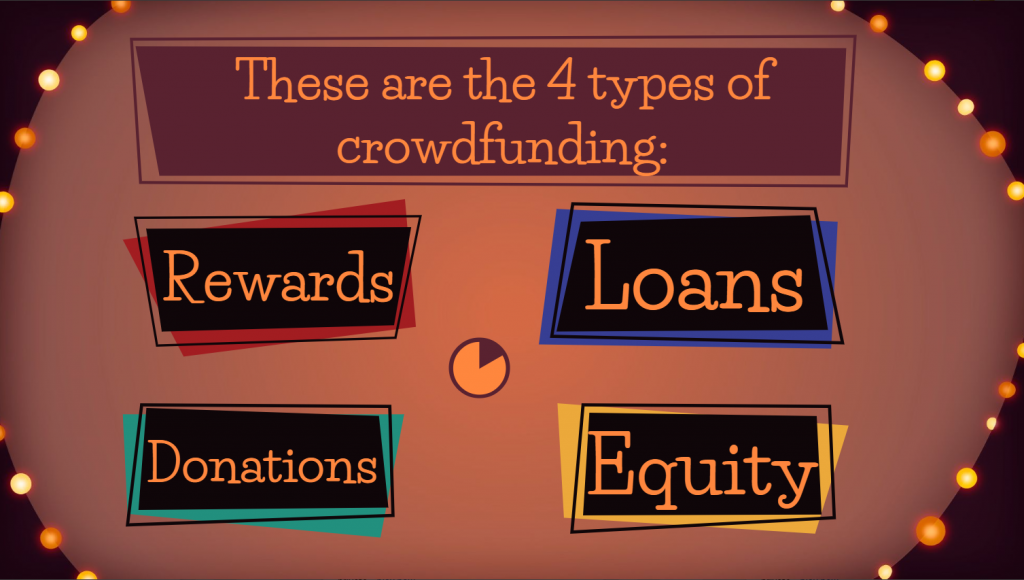 The many, many platforms
Once you've chosen What type of campaign you will be running (yes, you'll be running your own campaign, and you'll be the manager more than the presidency candidate), you can start thinking about a platform. There are hundreds upon hundreds of them, even though the most popular and famous one is Kickstarter. The Soho Loft has a list of many of the crowdfunding platforms out there today.
Don't go over this without considering every one of your goals. Each platform has its own capabilities user fee percentage and a unique design. Some support different payment methods and are aimed at a different geographic area. We chose to go for a local campaign for example. There's a lot of story surrounding this choice. We'll tell you more about it in the next blog post because…
A handy tool
First, we'll introduce you to a handy tool we discovered during a crowdfunding workshop we attended in Belgium organized by Crowdfundingwerkt.be. It was lead by the awesome people at Douw&Koren, which is a crowdfunding consultancy bureau from The Netherlands.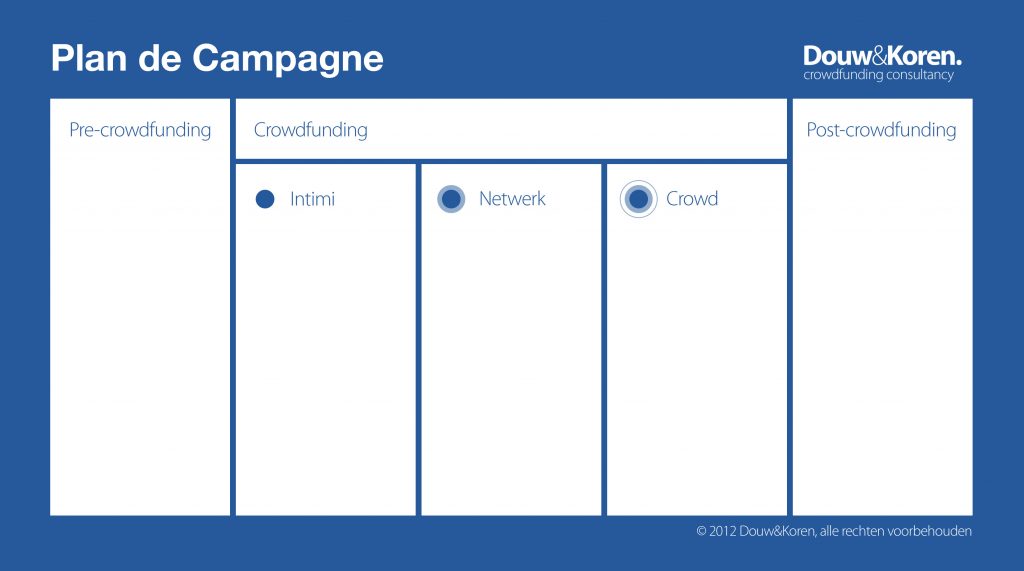 The tool requires you to fill out every blank space. That way, you will get a clear view of each aspect of your campaign. You'll be able to tell if you're ready to go for crowdfunding.
Especially the first two spots are very important. The 'Why' and the 'Project' can give you a deeper understanding of your own campaign goals, and are inherently related to one another. The 'Why' focuses on the bigger picture of your project as a whole, without thinking about crowdfunding. You'll have to fill out the big dream you want to achieve by working on the project you're starting a campaign for.
A crowdfunding campaign on the other hand has a reachable target goal and is limited in time, so it requires you to define the scope of the campaign in detail. The 'project' refers to the crowdfunding campaign. So you have to answer the question: what do I want to achieve by running this crowdfunding campaign?
The other blank spaces you have to fill out will follow from your answers on the first two:
Proposition: Here you fill out the rewards and their prices.
Infrastructure: Deceide wich platform you're going to use and add some important details about it here.
Promotion: Which communication channels and actions are going to be vital to your campaign?
Community: Which people will you reach out to? This includes people you know very well, acquaintances and connections via
Costs: Make a thorough breakdown of the costs you'll be making in terms of rewards, taxes, marketing, fees and more.
Funding Target: Based on the costs and the budget you need to complete the goals for your campaign, you'll define a fixed budget.
So what did we learn today?
Crowdfunding has a lot of benefits, but it requires LOTS of work and dedication
You can choose between no less than 4 types of crowdfunding for your campaign
There are hundreds and hundreds of different platforms; choose wisely
There are 3 stages in every crowdfunding campaign too. We'll get back to that in the last post in this series. In the next we will look into the preparations we made for QuizWitz. It was a lot of work in a short time!
We hope you learned a lot and join us next week to read about our campaign more in detail!